Today's job market has seen a dramatic shift. Fifty years ago good jobs did not necessitate a college degree, however, in today's world, 9 out of 10 new American jobs created in the last year went to those with a college degree. This indicates that there is a growing reliance on an educated workforce.
In order to stay competitive and increase their marketability, workers are seeking flexible options for continuing education and professional development. For many, this means online education. The average age of an online student is 32 years old, a population that includes parents, professionals, and everyone in-between. In order to cater to this large and diverse student population, higher education institutions are increasingly building out their online learning programs.
Online Learning Advantages & Challenges
Online learning has its advantages for today's students, providing:
Availability: learners are no longer bound by time and location
Affordability: online education is often less expensive than traditional education
Flexibility: learners are not constrained by a fixed schedule and can better balance personal and professional obligations
Just as the online learning environment is unique, so are the challenges in creating a successful program. Many online learners experience difficulties using course technology and struggle with self-motivation and discipline. They also have difficulty adapting to reduced engagement with instructors and fellow students. Learners with disabilities like dyslexia, attention deficit hyperactivity disorder (ADHD), and vision loss, or those completing coursework in a second language may have special difficulties with text-intensive online learning courses.

With 40% to 80% of online students drop out of online classes, it's clear that in order to create successful digital learning programs, certain key design components must be in place in order to ensure effectiveness and the achievement of learning goals.
Rubrics and the Universal Design for Learning (UDL)
Institutions looking to optimize student outcomes, whether offered traditionally, digitally, or blended, often utilize rubrics. Rubrics help to provide a standard set of criteria to ensure course quality for all students and incorporate accessibility, inclusivity, and the principles of Universal Design for Learning (UDL).
UDL provides an instructional framework to improve and optimize teaching and learning for all people based on how humans learn. The guidelines call for providing multiple means of Engagement, multiple means of Representation, and multiple means of Action and Expression, with an end goal of offering a variety of learning formats that align to student's unique learning abilities and needs.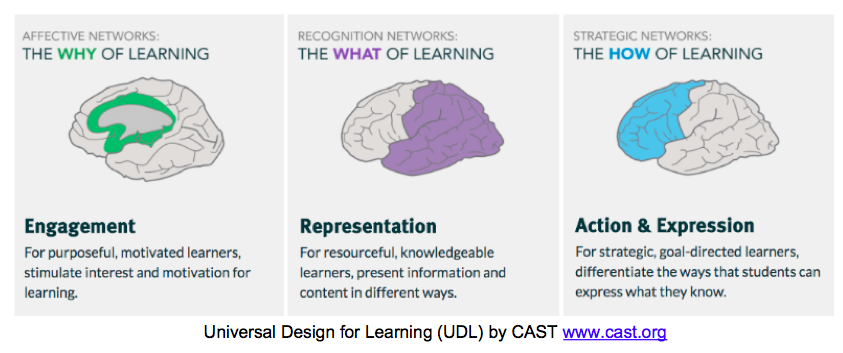 After all, we don't all use the same tools to learn. Some of us access content visually, while others use a screen reader. Some learners use a mouse; others use a keyboard to navigate. Some learners utilize a laptop, while others view course content on a mobile device. Online learning courses need to be structured in a way that account for how students access content. And just as important are the ways in which learners engage with content. Learners often have different preferences and abilities that allow them to comprehend and retain information more easily and become more successful students.
ReadSpeaker Solutions
ReadSpeaker's suite of learning tools align with UDL principles to allow students to engage with and absorb content in multiple ways according to their learning preferences and needs. We enable courses, lessons, tests, quizzes, assessments, reading assignments, and any other text-based content to be read aloud while students follow along with highlighted text.
We also offer reading, writing, and study tools that enable students to personalize the ways in which they interact with content, including

word lookups to assist with vocabulary
page masks or reading rulers to better focus on specific text
a simple view tool to remove clutter and distraction
read on hover to have specific text read aloud automatically
text enlargement to substantially increases the size of the displayed font for easier reading
translation tools to translate text and listen to in another language, or revert back to the original language
image to text to allow images to be converted to text and read aloud, providing convenience and saving time
dictation to assist learners who have difficulty typing or getting their thoughts onto paper by converting their speech into text
choosing reading speed as well as font color, size, and typeface, including fonts such as OpenDyslexic
download an audio version of content to an MP3 for convenient offline listening
and more!
Plus, our solutions require no downloads by students and can easily be integrated into your institution's learning management system so courses can be enabled campus-wide.
For more information on how ReadSpeaker is aligning to industry standards for quality online course design and UDL principles, helping institutions make content more engaging and accessible for all kinds of learners, and increasing course completion and student diversity and success, read our white paper.

Infographic Sources:
http://www.ldonline.org/article/10784/
https://www.additudemag.com/statistics-of-adhd/
https://www.census.gov/newsroom/press-releases/2017/acs-single-year.html?CID=CBSM+ACS16
https://www.afb.org/research-and-initiatives/statistics