Hello,
The new version of ReadSpeaker TextAid, the comprehensive reading and writing tool with read aloud technology, has had an exciting welcome.
Here's what parents, teachers, administrators, and users themselves have been saying:
"I love the ease of using the TextAid solution."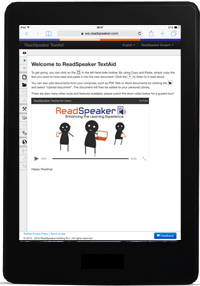 "It's very user friendly"
"Enough discussing getting this in our schools… now I would like to talk about getting a copy for my child!"
"We like the independence, the idea of giving ReadSpeaker TextAid to a student and letting him go!"
"This will give a lot of encouragement."
"It's great that it's compatible with Chromebooks."
"It's barrier free."
Want to see what all the buzz is about?
Sign up for a free, no-strings attached trial and see for yourself.
Or contact us directly on (703) 657 7801 for more information.
Happy reading!
The ReadSpeaker Team